Hello Lovelies,


As the market leader in dry shampoo, Batiste has branched out in to dry conditioner and as ever, I was keen to get my paws on some.
The product, in the uniform Batiste tin is a micro fine mist, not all too dissimilar to hair spray, rather than their usual powdery goodness. The dry conditioner is infused with Argan Oil for extra hair goodness!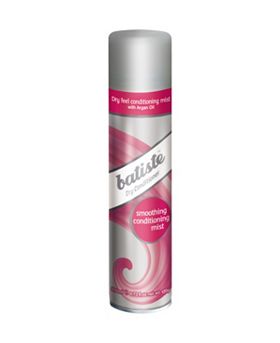 Using the micro fine mist, on dry hair, a dose of conditioner is left on the hair without weighing it down or making it greasy. It doesn't add a super shiny finish so you wouldn't even know it war s there, making it good as a little boost for dry haired chaps and even children. While the mist does smell nice, it will never replace in my heart that the cherry or wild scents from the dry shampoo line hold.
I wouldn't recommend you skip your usual conditioners to use this in place, but as a final styling treat or a 2nd day top up, this is just perfect, especially as we are coming in to the heating months where hair can dry out very quickly and the wind can frizz it up quicker than your straightening irons can heat up!
I like to use the dry conditioner on the very ends of my hair, focusing on my layers to help them look and feel tip top before I straighten and a good liberal dose on the mid to ends before I put it in a ponytail, plait or bun so that there's no dry fuzzies sticking out. It is perfect sprayed on to curls and scrunched in as it doesn't cause them to drop like a thicker product would.
I keep a can in my bathroom at home and a can in my desk drawer at work for top ups before meetings or going out straight after work as it does help maintain a groomed look.
Currently available in the large can, I am excited to see if this will be available in the small travel cans as it will be perfect once the holiday + festival season comes around.
The Batiste smoothing conditioning mist is available from all usual Batiste stockists for around £3.99 but it is currently on offer on the Boots website for £2.66
Next on my hitlist is the strength + shine dry shampoo – have you tried it?