This is a Holy Grail product for me.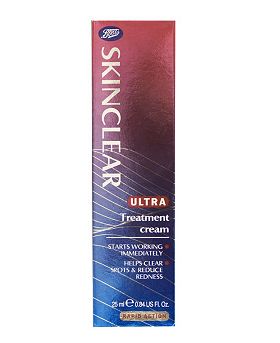 It takes a lot for me to say that but I never leave the house without a tube of this. There's one in each of my cars, handbag, desk at work, desk at home, make up bag, bathroom, bedside table.. You get the picture!
Whilst I don't suffer with your typical spots, I suffer a lot of reaction flare ups. When my facial skin comes in to contact with something it doesn't like such as perfumes, products etc it goes mental and breaks out in to nasty red itchy lumps.
I suffered with this for a long time untreated and then I started to try anything I could think of and nothing worked. It wasn't until I stumbled upon this, and it's non ultra predecessor that I had success in calming down my flare ups.
Using this creamy gel as a spot treatment (geddit?!) you can target the product on to the affect areas for a hit of calming. In about an hour it has reduced the redness, taken the itch out of the area and started to work it's magic on healing it up.
Being a hypersensitive skinned lady this really has been a godsend and has joined the ranks of my arsenal. It does work super well on 'normal' spots as well.
It's best applied under make up but you can lightly dab it on over the top, if you use a bit too much it does go a bit cakey with any powder but a little works wonders.
For less then £5 ( £4.07 for 25ml, currently on 3 for 2) I won't be without this gem and it's quite often on special offer too so stock up!
Have you tried this before? What spot fighting treatments do you recommend?